Birth
The founder, Frangiskos Mantzon, was born in Turin, Italy in 1904. He studied at the Polytechnic University of Turin and graduated with a degree in Civil Engineering.
Start
Arriving in Rhodes in 1936, he founded a company for the construction of public and private projects. He mainly worked in projects related to road construction. To successfully meet the needs of various projects, he purchased steam-powered rollers and a mobile crusher.
Crusher
In 1957, he inaugurated the first installation of a crushing mill in the Koskinou area of Rhodes, entirely for the needs of the company.
Expansion
In 1970, as demand on the island began to rise, he started a new larger facility.
Modernisation
In 1976, with the help of his son, Andrea Mantzon, he gives the business a breath of fresh air. The facilities are being renovated and the equipment is being replaced with new ones. The name of the company is changed to "Mantzon Quarry Enterprises S.A." and it works exclusively in the field of quarrying.
New Quarry Location
In 1984 the company continues its upward trend and acquires a new quarry in the area of Koskinou, while it is renamed to ELAPS S.A.
Relocating Facilities
In 1998 ELAPS S.A. is moving forward and relocates its facilities to a new area rented from the Municipal Community of Kalythies-Maritsa of Rhodes.
Acquisition
In 2008 ELAPS S.A. acquires the neighboring quarry company FAISTOS S.A. The latter is fully absorbed by the former in 2015.
Today
Today, ELAPS S.A. with its two modern facilities and long history in the business, it is established as one of the largest companies in the industry. It produces high quality aggregates at competitive prices, fully supporting the public and private sectors. Indicatively, we undertake projects in construction and infrastructure such as: road construction, concrete production, building materials, port projects and so on.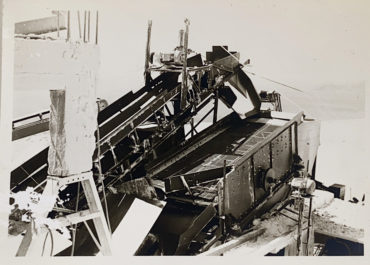 ELAP S.A. is managed by the Mantzon family and it is a mining, quarrying and construction company operating in the industry since 1971.
Customer-centric strategy plays a key role in the company's long-term course in the industry. Proper service and steady improvement combined with excellent products.
Therefore, our products, after extraction and strict laboratory tests, are available on the market for the construction of private and public projects.
ELAPS S.A. greatest asset is its employees. The company is staffed with excellent administrative and technical staff and has advanced machinery and technical equipment.
Finally, the central pillar for our stable and smooth operations is safeguarding the health and safety of our employees in and out of workplace.
Responsible Entrepreneurship
ELAPS S.A. employees show their level of professionalism by treating customers' expectations and desires as 'specifications' for their project. That is the epitomy of responsible entrepreneurship.